Elevate Your Burgers
with Four Seasons Venison
Four Seasons grass fed farm raised ground venison is a great replacement for beef or bison in a variety of dishes. Venison can be used in place of other proteins for burgers, meatballs, meatloaf, chili, and all sorts of meat sauces (like a hearty Bolognese). Four Seasons Venison has a mild flavor and is humanely raised. It is also a nutritional powerhouse: 4oz has just 140 calories, 24gms of protein and 25% of daily iron needs. It is also incredibly easy to prepare and cook.
To ensure your naturally lean ground venison stays moist and juicy during cooking, try this simple cooking tip: to make delicious burgers, meatballs, and meatloaf, add 1 heaped tbsp of dehydrated potato buds to 1lb of ground venison and mix well. This will keep the venison moist and juicy without changing the flavor.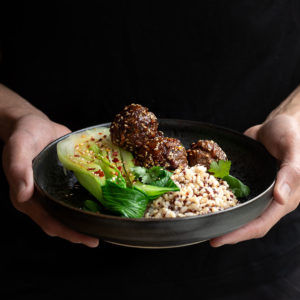 Four Seasons grass fed ground venison comes fresh or frozen in 1lb retail and 5lb foodservice packages.
To bring Four Seasons Ground Venison into your locations, please complete the short form.