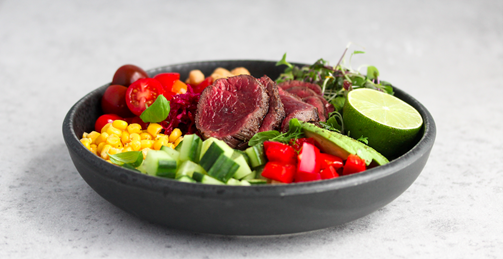 Venison Loin Steaks
Discover A New Protein
Experience the texture of filet mignon without the price tag. Our grass fed all natural venison loin steaks are easy to cook, healthy, and have a mild taste your shoppers will love. Pasture raised on a diet of fresh grasses, Four Seasons Venison is non-GMO, antibiotic free and raised without added hormones or steroids.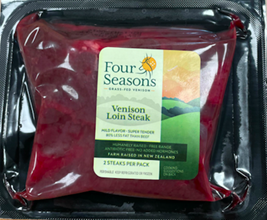 This lean cut of venison is from the striploin and each package contains 2×3 oz loin steaks. Compared to beef, venison has 80% less fat and only 150 calories per serving. These 3oz venison steaks can be cooked in a flash; they go from prep to plate in less than 10 minutes. For consumers who are looking to add a healthy new red meat to their meals, venison loin steaks are a delicious addition.

To bring Four Seasons Venison into your retail locations, please complete the short form.