Venison Denver Leg
Versatile, Tender, and All-Natural
Expand your protein offering with pure, grass fed Venison Denver Leg. Four Seasons Denver Leg is the most versatile cut of venison available and offers an exceptional yield. From roasts to satay to hotpot (and everything in between), Venison Denver Leg can be used in a variety of recipes and culinary styles.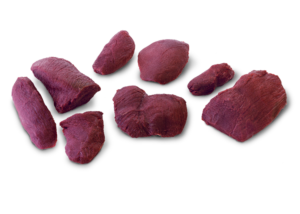 It has a mild and delicate flavor, refined richness, and subtle sweetness. This combination of taste and tender texture make our grass-fed, all-natural farm raised venison a taste sensation that your customers will love.
Four Seasons Venison is pasture raised, non-GMO, and all natural. It is also raised without added hormones or steroids.

To start offering your customers Four Season Venison, please complete the short form.