Four Seasons Venison
Expand Your Protein Offer
Expand your protein offer with pure grass fed venison from The Lamb Company. Our Four Seasons venison is humanely farm raised in pristine New Zealand and offers consumers a mild flavored, super tender, all-natural protein. Venison is quick and easy to cook, and delicious to eat. It's healthy too, with 80% less fat than beef, and lower fat, calories, and cholesterol than skinless chicken. For consumers looking to lose weight, enhance their workout regime, or try a tasty new protein, Four Seasons Venison is a fantastic addition to their diet.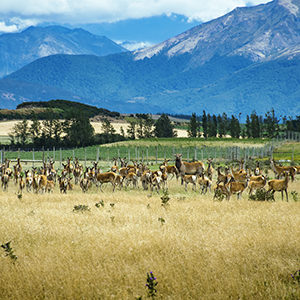 Our venison is pasture raised, free range, antibiotic-free, and raised without added hormones or steroids. It's available in a variety of cuts, including ground and portion cut steaks. A 3.5oz whole muscle portion contains:
○ 28gm protein (55% DV)
○ 1 gm sat fat
○ 150 calories
○ 40% RDI Iron
○ 35% Zinc
○ 67% B12
There has never been such an affordable and high-quality protein option in the marketplace, until now. To bring Four Seasons Venison into your retail locations, please complete the short form.