The Rise Of The Flexitarian Diet
Is Your Retail Location Ready?
Flexitarian diets are on the rise across America, where one in three Americans now consider themselves Flexitarian. Unlike vegetarian and vegan diets, the Flexitarian Diet does not have strict rules about what can and can't be a part of your meals. Flexitarians are looking to add more plant foods to their diet, but don't want to completely cut out meat. They enjoy a diet of fruits, vegetables, and legumes and try to get protein from plant-based sources. The key difference for this category compared to others is Flexitarians are able to include meat and other animal products into their diet, to be 'flexible' in what they eat. This flexibility is one of the reasons this diet is continuing to grow in popularity.
Does your retail location have the products to meet the needs of this growing category?
The Lamb Company has a new offering which satisfies Flexitarians' desire to enjoy plant-based foods while consuming meat in moderation. We're proud to announce the release of our Premium Quality Beef and Mushroom Burger and Ground. The Beef used in our Beef and Mushroom Burger and Ground is 100% grass fed, raised without antibiotics or added hormones, and is free range. Our Beef is also Halal. Our Blended Beef and Mushroom contains 40% less fat and 29% fewer calories than USDA data for 85/15 ground beef, appealing to the Flexitarian's desire for healthier meal options.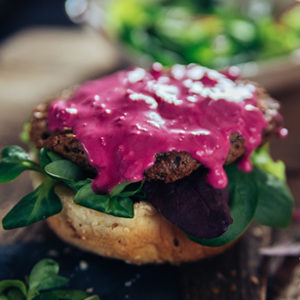 Our Blended Beef and Mushroom products are available in 16oz (1LB, 454g) ground packages and 16oz (1LB, 454g) 4x4oz patties to meet the needs of today's consumer.
If you have any questions about our Diamond Valley Beef and Mushroom products or if you would like to carry our products, please complete the short form.